Regular price
Sale price
$49.99 USD
Unit price
per
Sale
Sold out
Care Instructions

✅ HIGH-DENSITY QUALITY
Made with 230kg/m3 high density polyester felt fabric, which is durable, light in weight, and damage-free to a wall. Our soundproof wall panels do well in reducing noise, eliminating sound impurities and improving speech intelligibility. We insist on using high quality soundproofing material to ensure it's flame retardant, odorless, non-toxic, corrosion resistant, and fade resistant. Furthermore, the acoustic foam panels achieve a grade of noise reduction coefficient: 0.95 and absorption coefficient: 0.8!

✅ ECO-FRIENDLY & UL CERTIFIED
It is flame-retardant, environmentally friendly and non-toxic. Passed UL Gold Greenguard certification and SGS Fire prevent UL94.

✅ FASHIONABLE APPEARANCE
Available in different styles, bubos acoustic sound panels can be hung in your bedroom or living room as a decoration to light up your dull walls, bringing a different visual appeal! Rich and diverse patterns are compatible with any scene.

✅ IMPROVED ACOUSTIC QUALITY FOR ANY PLACES
🎸Reduce room echo and reverberation
🎸Optimizes the audio quality of live broadcasts and recordings
🎸Enhances your stereo and surround sound listening experience
🎸Rich and diverse patterns can be compatible with any scene

✅EASY TO CUT, INSTALL AND REMOVE
Simple fix the panel with 3M heavy-duty, double-sided adhesive, nano-glue or spray glue and nails.
Materials

Made from 230 kg/m3 density polyester, which is high density, fire prevention and environmental.
Shipping & Returns

We can only ship to the U.S.

This service is temporarily not available in other countries.

 

Order Processing Time

It is the time elapsed between when the customer places the order and when the seller hands the order over to the delivery service.
Generally, orders are shipped within 1 working days of order confirmation/payment. Orders made on the weekends might experience delay.
Our warehouse only operates on Monday – Friday during standard business hours, except on holidays. In these instances, we take steps to ensure shipment delays will be kept to a minimum.

Shipping fee and time for US:

| | | | | |
| --- | --- | --- | --- | --- |
| Courier | Tracking | Processing | Shipping | Fee |
| Standard | Yes | 1 days (workday) | 7-10 days (workday) | $0 |
| Express  | Yes | 1 days (workday) | 3-5 days (workday) | $20  |

 

Total Delivery Time = Processing Time + Shipping Time (depending on your location)

Tracking

Tracking information may take 48 to 72 hours to update.
If you cannot track your package normally, please contact us and we will resolve this issue within 48 hours.

Delivery Time Exceeded

International shipping might experience delay due to covid-19. If your order is delayed, please contact us via email buybubos@gmail.com, we will check the situation with the transportation company in time. Thanks for your understanding and support.

 

Custom duties and taxes:

All international packages may be subjected to customs duties and taxes. The limits for duty-free packages are regulated by local customs authorities. Please check your local customs website for more information. 

We mark the parcel as gifts and will be paying for any associated shipping cost involved in the parcel arriving to your country. We are not involved in any custom fees (if any) for different countries. If have,the buyer should pay the fees.

 

Email: buybubos@gmail.com

Phone number: +01(629) 259-4408
Address:  STE 2021 800 S GAY ST KNOXVILLE, TN 37929-9710 KNOX COUNTY

 
Acoustic Panels Description
Acoustic Treatment Panels For Wide Applications
Why Choose Bubos Acoustic Sound Panels?
Easy Installation For Sound Dampening Panels
Share
View full details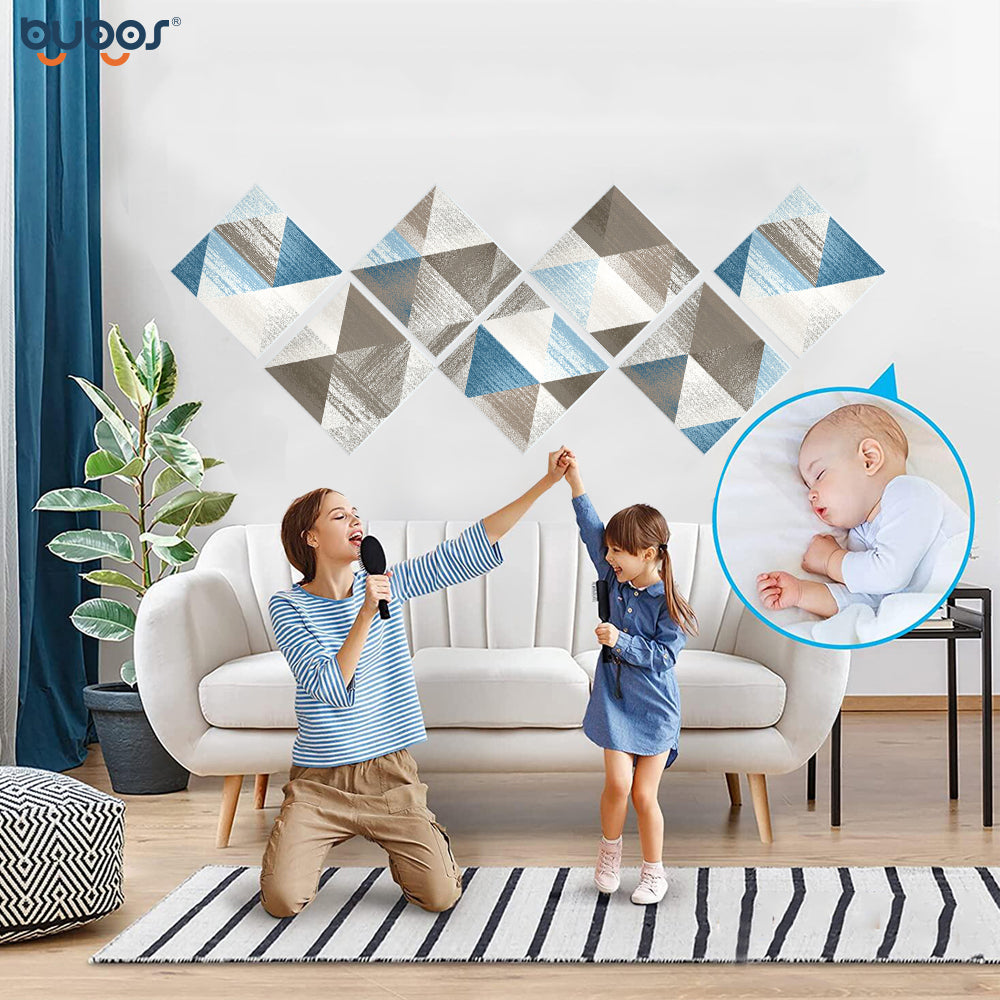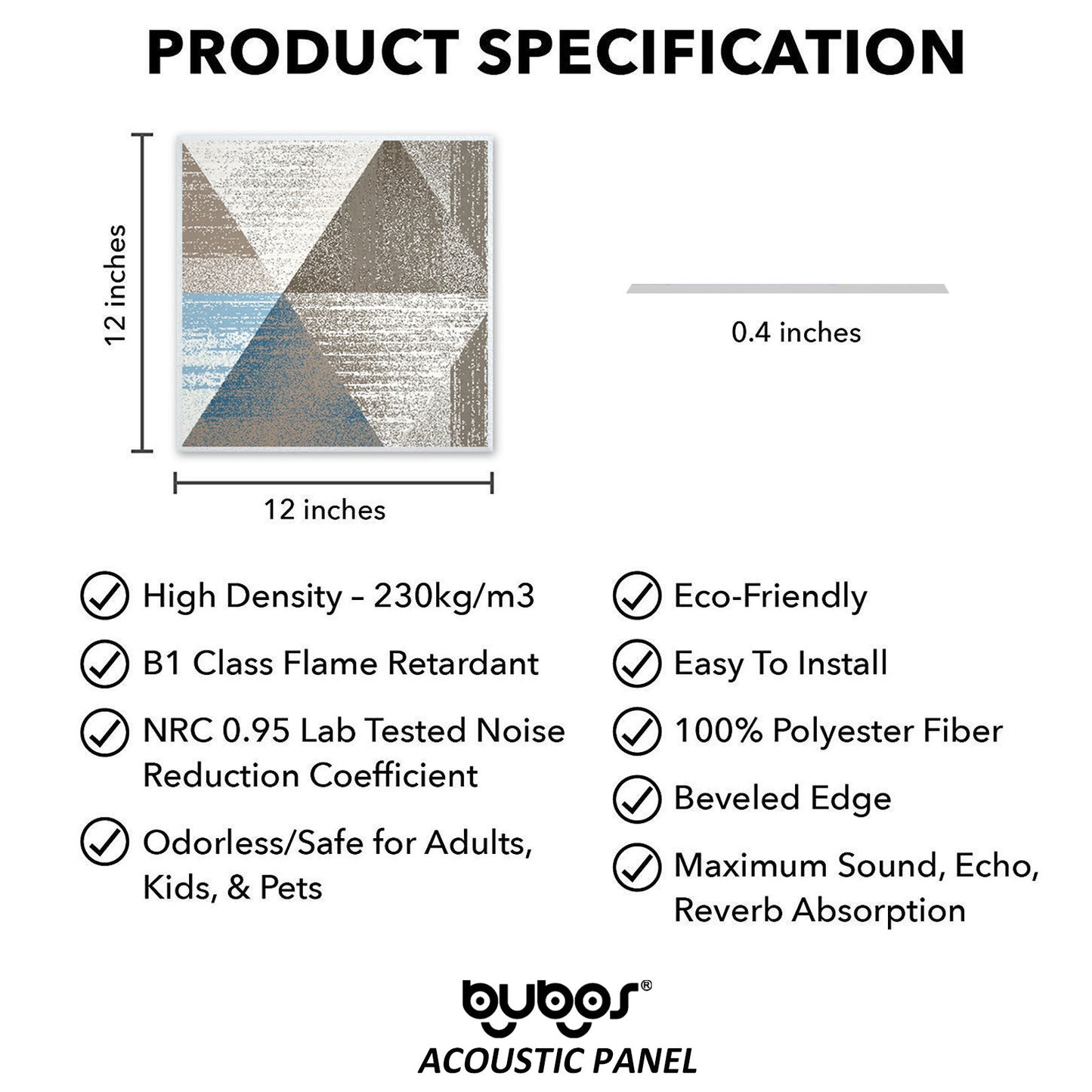 Nice functional panels
I put this up in a bathroom on the walls to help absorb noise as the echos in the room were awful. It's similar to a thick felt but looks nice enough to display rather than hide. I am very pleased with the results. There is still sound, but it's significantly muffled through the thin walls. I can't tell the difference when in the bathroom, but the amount of noise outside of the room has been cut to about 25% of previous volume. I will be putting more up.
Very good acoustic panels
OK - First read the description! These panels are not for soundproofing as such. They are acoustic modifiers in that the help reduce reverberations and echoes. I used then in a corner of ta room that I've been using for conferencing and they materially reduced some unpleasantly harsh reverberations from hard plastered walls.
Shut noise out with an Art Deco wall
I suffer from sensitive hearing and nothing bothers me more than neighbor's TV. Sympathizing with the 90 year old next door, I decided a sound proof wall is the only solution for me.
Discouraged by many ghastly looking panels on internet, I came across this beautifully designed product that finally gave me a chance to finish my project with style.
These acoustic panels are very well made, light but solid. Installing was pretty easy with 3M heavy duty foam tape. The result was beyond satisfactory. I can finally enjoy tranquility of the night without having to know what TV my neighbor is watching. A surprising plus is the artsy feel it brings to my home when I put these panels together. This investment was so worth it even only for the decorative purpose.
Highly recommend to anyone who wants to muffle noise without sacrificing aesthetics!
Nice Acoustic tiles work!
It works but not solve all my audio issues. Room is quite "loud" with echo and quiet asymmetric. At least I can hear that left wall is not "sound" that much.
Look great
I put these in my medical office to absorb some of the echo. I knew it would take more than one set to make a difference in a large space, but I wanted to make sure the quality was good and I liked the look first. I was happy enough to order more sets. They look great.
Update: I ordered more to cover more of the wall (and switched walls, which was easy and didn't damage the walls using small squares of 3M tape). Very happy with the final result.